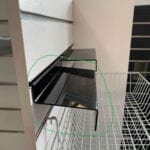 Description
Note: this is a brand new item being sold as cost price due to a small fault.
Please look at the photos closely. The shoe holder you are buying is circled in green. They angle down slightly compared to our normal shoe holder. They will still hold a regular shoe without issue.
Grid mesh and slatwall shoe shelf for footwear merchandising.
Features a front lip, so product information can be displayed if required.
Care Instructions: Wipe with a clean damp cloth when required.
Compatible With: Slatwall and grid mesh merchandising systems.
Dimensions: 255mm (W) x 110mm (D). It has a front lip of 40mm high.
Made From: Black polished acrylic for a professional finish.
This slatwall shoe display provides a cheap yet effective way of merchandising footwear.