Seven Ways to use Slatwall
webmaster
Slat Wall
(also known as slat panel) is a versatile merchandising tool and can be used in both your business or at home. When using your imagination it is easy to create simple storage ideas to maximise space and presentation.
Below we look at slatwall used in 7 very different but very effective ways.
1. To hang stock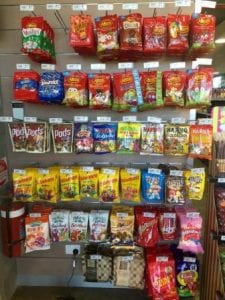 This convenience store has used slatwall to hang confectionary and we think it looks fantastic.
Instead of stacking lollies on a shelf, slatwall can be used for a much cleaner and neater finish.
Another benefit of this is that it is easy for the shop owner or manager to see which items need to be restocked or reordered so that no precious sales are lost.
This shop owner has also used flipper hooks with tags that display the product details.
A visually appealing use for slatwall.
2. To keep with a colour theme
Our most common slatwall purchasers are definitely shop owners who have stock to merchandise on their walls.
The example to the left perfectly displays what some excellent merchandising and colour coordinating can do.
Black slatwall was a perfect pick for the black, green and pink products in this shop.
By using flipper hooks to display the products prices and details they have made it simple for the customer to get the information they need.
Should prices ever change it is simple to slip the data tags in and out of the plastic pocket.
3. For your tools
What we see a lot less but it still just as useful is slatwall purchased for the home.
It can make an excellent storage tool in garages and man dens, as well as laundries, sheds and other areas where cleaning products need to be stored. With a little imagination your slatwall can go a long way!
Here is an example of tools being stored on slat panel. By using some well placed hooks you can keep items such as drills, hammers, pliers and spanners easily organised. This type of set up can be placed up high so that little fingers cannot reach your expensive prized possessions.
4. For your store brooms, mops and cleaning products
A less obvious place we find slatwall useful is in the laundry.
Long items such as brooms and mops can be difficult to store and can be dangerous tripping hazards if left leaning against a wall – not to mention my little one loves touching the bristles of a dirty broom!
A great workaround is to install a piece of slat panel or two in your laundry and use hooks to create 'handles' to hold the broom or mop head.
The sky is the limit with what you can store here – you could also consider using hanging rails for buckets and handbag arms for towels – the list of endless with a bit of creativity!
5. At the store counter
Our slatwall counters are unbelievably popular and it's not hard to see why.
They are perfect for add on sales while also leaving plenty of room for things like a cash register, eftpos machine and paperwork.
They also have excess storage at the back for bags or personal belongings and a locked draw so your cash is kept safe.
6. On the shop floor
Slatwall gondolas are becoming increasingly popular. There are so many options available such as spinning gondolas, H shaped, 4 ways and simple 2 way stands. All slatwall accessories are compatible with our gondolas and they are an easy yet effective way of merchandising stock.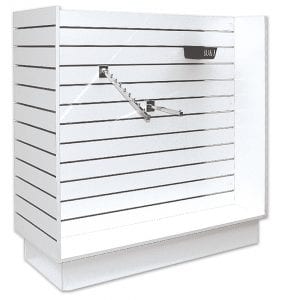 7. To merchandise your brand
This is a fairly new use we have found for slat panel and is becoming increasingly popular. An image can be printed to vinyl and adhered to slatwall. By providing us with a high resolution image, your logo (or any other image) can be displayed in your store. This is particularly useful for expos and trade shows when you want to make sure you logo has a strong impact to new and existing customers.
To see how we can make slatwall work for your home or business, simply contact us, we are here to help.