Why More Businesses are Choosing Slatwall
webmaster
As time goes on, more and more businesses are choosing slatwall over other storage systems.
Also known as slat panel, slatwall is a versatile, easy to use storage system for business who prefer to maximise their wall space.
So why the jump in slatwall demand?
More slat panel accessories are becoming available.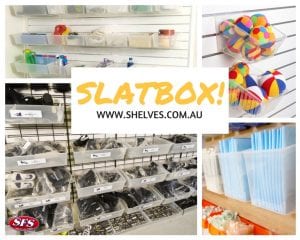 The use of slat panel storage bins is rising as the need for organisation in the workplace increases. We have some new additions to our slatwall accessory family, including storage bins and heavy duty hooks.
Below are some fantastic uses for our popbox and storboxs, and as you can see industries from medical to automotive use this type of system, it is not restricted to just retail. These items are so easy to use and can be easily moved around should your display needs change. You can also add or remove boxes should you stock levels change.
More slat panel options are available.
Slatwall gondolas are also becoming increasingly popular for those shops who like to use the same storage system throughout their shop.
With slat panel gondolas, you can match your floor set up to your wall set up.
This also makes the best use of your accessories because there is no need to buy different accessories for your wall and floors.
Our customers are getting creative.
From custom bays to excellent use of colour schemes, our customers are getting more creative with the way they merchandise.
Did you know we can also get slatwall in various colours? If you have a corporate or brand colour that you would like to work with, or even an image placed onto your slatwall, this can be done. But remember – please give us enough time to place and process your order if you require a custom piece.
Below is a great example of an image transferred to slatwall, a custom bay and 2 retail shops who have gotten creative with their merchandise display.
How do I attach slatwall to the wall?
This is a question we get asked a lot and we will be doing a video on this shortly – feel free to suscribe to our You Tube channel for updates. This all depends on the type of surface you are working with.
For plaster:
Finding the timber stud is the most efficient way of securely attaching your slat panel to the wall. After the stud is located using a stud finder, attach the panel to the wall using a drill. Drilling through the aluminiun insert if the most secure way to do this because the aluminium offers extra support and also ensures the head of teh screw is hidden, not affecting the look of the slatwall.
For concrete or brick:
Simply use the appropriate masonry anchor, available at your local hardware store.
For advice on whether slatwall is right for your shop, please call, email, or come in and see us.
We'd be more than happy to help.