Pharmacy Shelving and Storage
webmaster
Here is a fantastic example of a pharmacy we fitted out with gondola shelving recently.
Or, if you want to get straight to shopping, skip straight to our pharmacy and chemist shelving page.
The store owners needed a storage system that met the following requirements:
– Ability to add both shelves and hooks, because multiple products needed to be displayed, including both hanging products and merchandise that looks better sitting on the shelf.
– Narrow shelving units with the  capacity to store large quantities of stock but not take up precious floor space.
– Wheels were required on the unit, so that if a bay or two needed to be removed and placed elsewhere it would be simple (and could be done without having to empty the stock off the shelving first).
– Ability to add signage to the top of the gondola unit.
– Shelves wide enough to use both data strips (plastic shelf stripping that displays product price and information) and flipper hooks (hooks that not only hold the product, but have a ticket/label holder at the end to display the details of each item).
– Adjustable shelf and hook levels that can be added, removed or height adjusted depending on the product that needs to be displayed
Our punch panel gondola shelving is the perfect solution.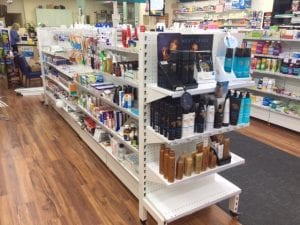 Punch panel is extremely versatile and has the capacity to hold large amounts of stock. It's name describes it perfectly – it's back panels are punched with holes, allowing the use of multiple fixtures to be used with the unit. This storage system allows you to connect bays together to form a run of bays, so whether you need a 1 metre or 10 metre (or more!) run of shelving, gondola shelving has you covered. Punch panel is available in a variety of heights, lengths and shelf depths, and we can make recommendations based on your needs. This shelving system is also on display in our showroom and you are welcome to view the product.
The owners used data strips to display product prices and information, and also ensured they over compensated when calculating their shelf space.
We always recommend shelving with more space than you need 'right now', because as your business (hopefully!) grows, your shelving can grow with you.
End bays were used to maximise space. These are often the bays that are used when promoting a particular product, or for sale and clearance items.
As per the customers requirements, wheels were added to the shelving so the bays can be moved easily if required.
Light and Very Heavy Duty Alternatives to Punch Panel Gondola Shelving
Although the weight load of each shelf level (40kgs) does not change, we do have alternatives available for customers who are wanting to hang light or heavy items.
Our punch panel gondola shelving is what we would describe as heavy duty. Businesses such as pharmacies, chemists, petrol stations and small supermarkets are generally in the market for this kind of shelving.
If you would like a cheaper option and your business only needs a very light duty storage system for hanging, our budget mesh system could be for you. This system will hang light items only, such as light toys, scarves, manchester, haberdashery and the like. There are some restrictions with mesh. In particular, the levels of the mesh are very wide, so you are limited to the heights that you can hang your products, which can result in wasted space between products. Otherwise, mesh is a great system if you are looking to save some money.
If you require a hanging system for heavy items, such as tools, fishing sinkers or other heavy products, volcano panel is the way to go. The subtle difference between punch and volcano panel, is that the holes are recessed (inverted) which creates a much higher level weight loading. The hooks available for this system are also far more heavy duty than it's punch panel and mesh relatives.
Are you fitting out your own pharmacy or have questions about whether this shelving will work for you?
Contact us – we'd be happy to help.