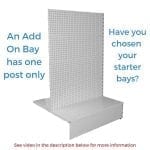 Metal Pegboard Shelving – Double Sided – White
$175.70 – $744.20
Do you need help choosing your shelving?
Take a look at our guide below, or feel free to contact us on (03) 9793 3433.
Product Enquiry
Description
Specifications
Enquiry
Description
White metal pegboard double sided shelving.
If you are looking for single sided configuration or a different colour, head to our metal pegboard shelving page.
How To Choose Your White Pegboard Shelving
We have written a full blog post explaining gondola shelving here, or see below for more information. There is handy video below too.
GONDOLA TYPE
Starter Bay: The first bay of a shelving run is always called the starter bay. You will always have a starter bay, even if you have chosen to have a feature bay at the start of the run. A starter bay has 2 posts, also known as legs.
This is why the starter bay is more expensive than the add on bays.
Add On Bay: Add on bays are additional bays that make the shelving run longer. You can purchase as many add on bays as you wish. Each add on bay only needs 1 leg because it utilises the previous bays leg.
This is why the add on bay is cheaper than the starter bay.
Example:
If you required 2 runs of shelving, each with 3 bays, you would select 2 starter bays, and 4 add on bays.
HEIGHT
Choose the required height of your bay.
LENGTH
Choose the required length of your bay.
SHELF DEPTH
Choose the required depth of your shelves.
SHELF LEVELS
Choose how many levels you require.
Take a look at our video below for further explanation.
Feel free to contact us if you still need help with your white metal pegboard shelving.
Additional information
| | |
| --- | --- |
| Gondola Type | Starter Bay, Add On Bay |
| Height | 1430, 1820, 2210 |
| Length | 900mm, 1200mm |
| Shelf Depth | 300, 400 |
| Shelf Levels | Base Only, Base +1, Base +2, Base +3, Base +4, Base +5, Base +6 |