Metal Pegboard Shelving
Our metal panel pegboard shelving system is our best selling product in our gondola shelving category.
This steel system is considered suitable for medium duty storage and comes with multiple accessories, including pegboard hooks, shelving, baskets, boxes, straight arms, waterfall arms, and more.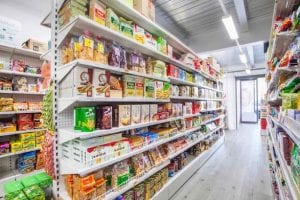 Although we primarily stock this system in black and white, we can powder coat it to almost any colour, so please get in touch if you require something specific. If you want to enhance the product further with your brand, we make specialised branded bays with custom colours, accessories and signage. It's the perfect way to get your brand noticed.
What is metal pegboard?
Put simply, metal pegboard is a steel sheet that has been 'punched' with small holes. For this reason, this system is often referred to as 'punch panel'. These holes are created to use in conjunction with the multiple accessories that are available to compliment it.
A double-sided system is often used to create an aisle, where a single sided unit is perfect for putting against a wall. We even have corner storage units to maximise space in those tricky corner areas, and end bays to finish off the shelving run and merchandise key or promotional products.
What configurations is steel pegboard available in?
Single sided configurations: this type of unit it perfect for using against a wall. A single or double-sided unit can then be placed opposite it to create an aisle.
Double sided configurations: double sided units work well to create a feature area or to create an aisle in the middle of a shop.
Feature End Bays: End bays work well to finish off a run of shelving nearly, while also maximising space. We find feature ends work really well for promotional or sale product.
Corner Units: perfect for maximising space, corner shelving units offer shelf space in tight corners, making merchandising easier and creating a professional look.
Corporate/Branded bays: To really up the anti, consider powder coating your shelving in your brand colours, or adding logos, text or visual design to the storage unit.
Is metal pegboard easy to put together?
Yes! In fact, it can be easily assembled by one person.
Take a look at our video to see just how simple it is. This video shows a single sided system being assembled, but the same principles apply for double sided.
If you'd prefer to leave it to the experts to install, we can arrange to install it for a fee. Just contact us to discuss your needs and we will do what we can to assist.
We even recommend this type of shelving for markets and pop up shops, because of its easy assembly and disassembly.
Which industries is metal pegboard used?
We see this type of system used for all types of retail applications, such as
Pharmacies
Pet Shops
Convenience Stores
We can assist with all of your metal pegboard shelving needs, simply contact us.