Louvre Panels & Bins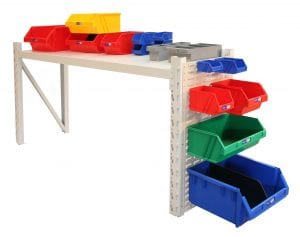 Louvre panel and bins are perfect for storing items in a workshop, warehouse, or at home in a garage.
Stor Pak bins are available in a variety of sizes and colours. They fit easily into the louvre panels and can be added or removed at any time depending on what you need to store.
The panels can be wall mounted and are used to display the Fischer Stor Pak team bins. The panels grip the back of the bins, ensuring they fit securely.
What can Louvre Panel and Stor Pak bins be used for?
The sky is the limit when it comes to what these bins can be used for, but some examples are
nuts, bolts and screws
small tools,
washers,
mechanical or plumbing parts
even kids toys, such as lego
The list is endless.
They are often used in garages or workspaces that use our storage units and gondola shelving.
These louvre panels and bins really assist with organising your workplace so please contact our team if you need any help making your selection.