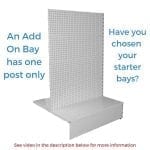 Metal Pegboard Shelving – End Bay – White
$128.80 – $335.20
Do you need help choosing your shelving?
Take a look at our guide below, or feel free to contact us on (03) 9793 3433.
Product Enquiry
Description
Specifications
Enquiry
Description
Black metal pegboard end bay in white.
An end bay is essentially a single sided bay, placed in horizontal position that 'finishes off' the run of shelving nicely, making the most of space, and creating an extra bay at the end of the run that can be used for additional storage.
An end bay can be created using our punch panel, slat panel, plan panel or mesh grid storage gondola systems. Any of our accessies can be used with the relevant system, including shelving, hooks and bins.
These are available in black and white, or can be powder coated in your corporate colours.
How To Choose Your White Metal Pegboard Shelving End Bays
We have written a full blog post explaining gondola shelving here, or see below for more information. There is handy video below too.
Skip to 1:02 in the video below to see an example of an end bay.
HEIGHT
Choose the required height of your bay.
SHELF DEPTH
Choose the required depth of your shelves.
SHELF LEVELS
Choose how many levels you require.
Take a look at our video below for further explanation.
Feel free to contact us if you still need help with your white metal pegboard shelving end bays.
Additional information
| | |
| --- | --- |
| Gondola Type | End Bay |
| Height | 1430, 1820, 2210 |
| Length | 700mm, 900mm |
| Shelf Depth | 300, 400 |
| Shelf Levels | Base Only, Base +1, Base +2, Base +3, Base +4, Base +5, Base +6 |